2023 Contest Judges & Guest Artists
Dean Gronemeier has been teaching at the University of Nevada, Las Vegas since the fall of 1989. Additionally, from fall 2003 to fall 2013, he served the College of Fine Arts as the Associate Dean and is the committee chair for designing and implementing a new Master of Marimba degree at UNICACH in Tuxtla Gutierrez, Chiapas, in Mexico. He also served for two years as a member of the percussion faculty at UNAM (La universidad nacional autonoma de México) in Mexico City.
Along with being a percussion educator, Gronemeier is an active clinician for the Yamaha Corporation of America, SABIAN Cymbals, Grover Enterprises, and Mike Balter Mallets. He has soloed extensively throughout the United States and Mexico, as well as making appearances as a soloist in England, France, Switzerland, Austria, Germany, Australia, and Chile.
Gronemeier received his Doctor of Musical Arts degree and his Masters of Music degree from The University of Arizona where he studied with Gary Cook. He received his Bachelor of Music degree from Northern Illinois University where he studied with Rich Holly, Robert Chappell, and Al O'Connor. In December 2001, Gronemeier received his Juris Doctorate degree from the William S. Boyd School of Law on the campus of the University of Nevada, Las Vegas and holds a license to practice law in the state of Nevada and in all federal courts.
Raymond Schwarzkopf is privileged to serve, once again, as a judge of the World Champion Old-Time Piano-Playing Contest. With his roots in "the SouthSide of Chicago," Raymond has demonstrated considerable skill and acumen in music from an early age. He has sung and played marimba, vibes, saxophone, percussion instruments and more throughout grammar school, high school and beyond. An impressive career that has seen him perform alongside Lionel Hampton, Jose Bethancourt, Della Reese and in many ethnic bands demonstrates his love for music that makes him the perfect candidate for judging this prestigious competition.
During his college career, Mr. Schwarzkopf was introduced to The Barbershop Harmony Society and quickly developed a strong affinity for close harmony. This passion led him to form quartets, direct choruses, judge International competitions, teach classes across the globe, and share his love of making music. Even today, as a Life Member of the Society, he continues to spread joy through music. Although Music wasn't his primary focus of study in college, Mr. Schwarzkopf graduated from Northwestern with honors by becoming the only non-Music-major involved in various performance ensembles and admitted as a student into both Phi Mu Alpha and the Musicians' Union.
Raymond possesses a broad scope of experience as a performer, musician, songwriter, vocalist, quartet member, teacher and coach. He engages with the traditional American music genres of Gospel, Jazz, and Barbershop that characterized the late nineteenth century and the early twentieth decades. He strives to provide instrumentalists and vocalists alike with opportunities to build upon their artistry. His main efforts concentrate on helping musicians get the most out of their craft while having fun doing it. Raymond emphasizes how important it is for each of us to make music part of self-fulfillment while experiencing its communal joys. Indeed, just as we are celebrating at this festival – "Everything Old Is New Again!"
Saundra Bishop is a member of the Fine Arts faculty at Northwest Mississippi Community College in Senatobia. She teaches music theory and piano courses, directs the pop vocal ensemble, and is collaborative pianist for the choral ensembles and music department recitals. She has also served as the music director and pianist/conductor for several NWCC musical theatre productions, including Calvin Berger, The 25th Annual Putnam County Spelling Bee, Elton John and Tim Rice's Aida, and The Spitfire Grill. Saundra maintains an active collaborative piano schedule in the north Mississippi area and plays
with the North Mississippi Symphony Orchestra.
After completing degrees in piano performance from the University of Alabama and Louisiana State University, Saundra received the DMA in piano pedagogy from the University of Mississippi. She is a long-time resident of Oxford.
Adam Swanson is one of the world's foremost pianists and historians of vintage American popular music, including ragtime, early jazz, the Great American Songbook, and more. Adam has been a featured performer and lecturer at ragtime and jazz festivals across the United States and abroad, and he is the only four-time winner of the World Championship Old-Time Piano Playing Contest. He made his New York debut in Carnegie Hall at the age of nineteen, where he performed with Michael Feinstein. Adam appeared alongside pianist John Arpin at the Bohem Ragtime and Jazz Festival in the Republic of Hungary, and he has also toured Switzerland and Australia.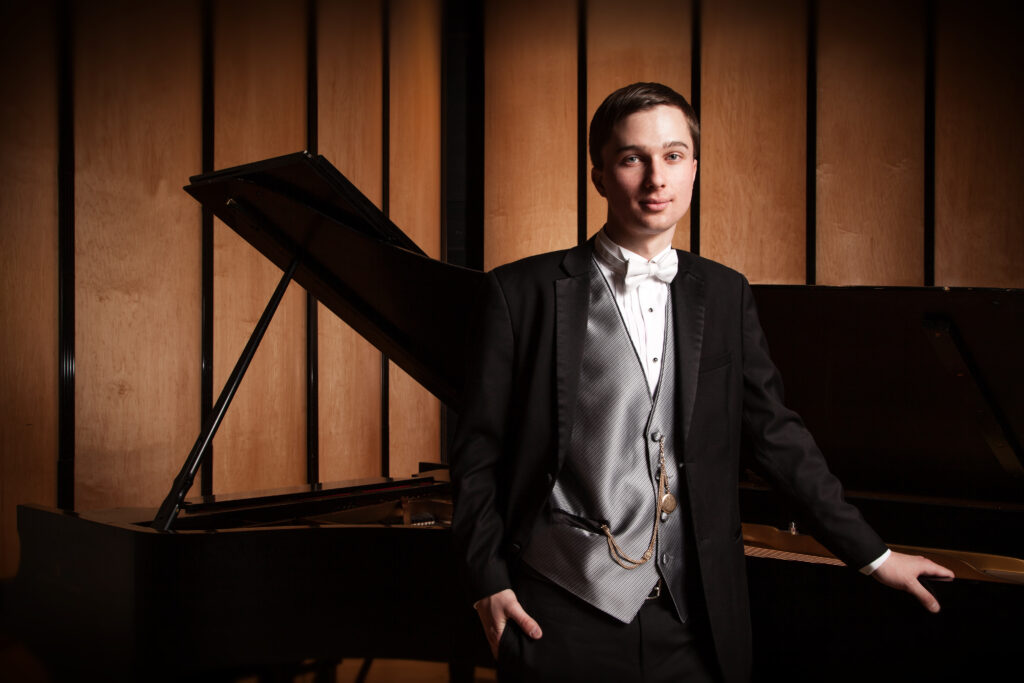 Adam has accompanied silent films at the prestigious Cinecon Classic Film Festival at the Egyptian Theatre in Hollywood and performed privately for Oscar-winning Disney/Hollywood composer Richard M. Sherman (Mary Poppins, etc.). At the age of twenty-one, Adam performed a solo concert at the Kennedy Center Millennium Stage in Washington, D.C.
Adam holds a bachelor's degree in classical piano and a master's in musicology from the Peabody Conservatory of Johns Hopkins University. He has been mentored by other ragtime artists including the famed Max Morath and legendary 1950s recording artist Johnny Maddox, who was one of Adam's greatest influences. Adam has recorded albums with noted musicians such as former rock star Ian Whitcomb, the Peacherine Ragtime Society Orchestra, and the Bar D Wranglers, a classic western band. Adam's recordings have been used on the CBC TV show Murdoch Mysteries. He lives in Durango, Colorado, where he frequently performs in the Diamond Belle Saloon at the Historic Strater Hotel. Listen to Adam's livestream virtual concerts on his Facebook page and YouTube channel.