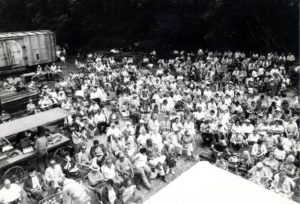 As a fund raiser on Memorial  Day in 1975, the Monticello Railway Museum hosted the first of 12 World Championship Old-time Piano Playing Contest editions that took place in that small town, located about halfway between Champaign and Decatur, Illinois. For 11 of those years, the contest took place on the rear platform of an old railroad caboose to the delight of hundreds of folks in lawn chairs, more in bleachers and even some perched atop box cars to get a better view.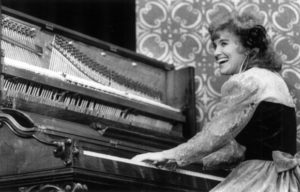 The last year it took place in Monticello was the same day as "Hands Across America" and lots of folks suspected there'd be traffic problems and stayed away. Others were deterred by a chill breeze and cloudy skies with sprinkles of rain as the wind swept over the high school football field, pressed into service in anticipation of bigger crowds. Consequently, 1986 was the year we decided to take our event, which had expanded to two days with afterglow parties, inside.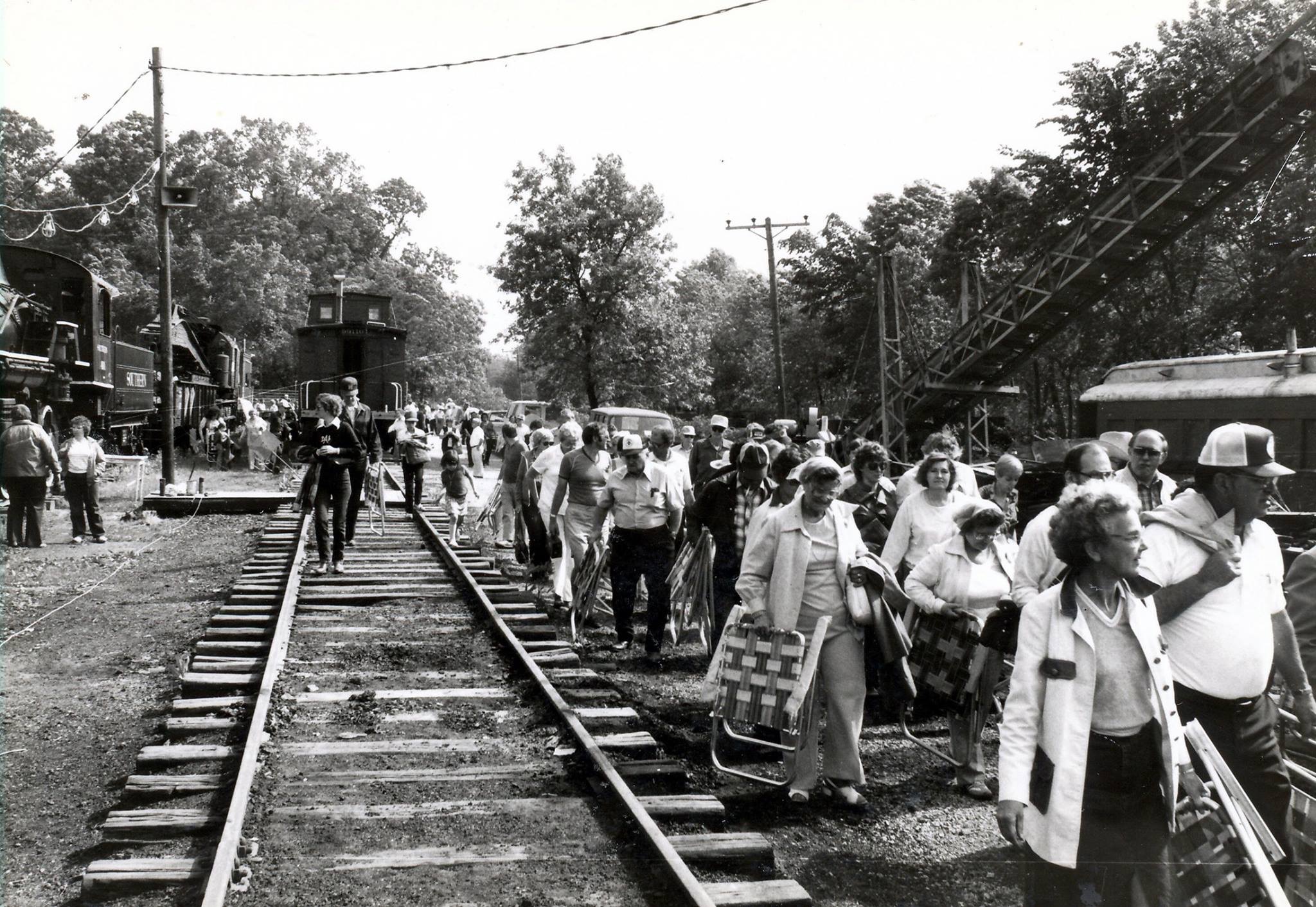 Our first contestant in 1975 showed up on a day that was hot and sweaty and would eventually be plagued by tornadoes nearby, forcing the contest into a baggage car with a back-up piano. Four contestants showed up but so did about 40 spectators. By year two, we were down to three contestants, but a much bigger audience and the third year, about 600 came to watch, boosted by our champ's appearance on the Mike Douglas show in Cleveland OH. After reading about her in a newspaper story in Chicago which was picked up by the wire services, the show flew her there for an appearance that also had Bob Hope and Jethro Tull's singer Ian Anderson. She was thrilled, we were thrilled and we wound up with a dozen contestants.

Our champ for the first two years was Joybelle Squibb, a golf-playing granny from Vandalia IL, but a retired school teacher who got into playing full-time after her husband died, beat her in 1977. And, Dorothy M. Herrold of LaPorte IN won three times in a row through 1979, our first of several three-time winners.

By 1987, we were ensconced in the Holiday Inn on the west side of Decatur IL, and our stay there lasted until our move to Peoria in the late 90s. We spent two years with the Four Points by Sheraton Hotel after a long stretch at the Hotel Père Marquette, which closed for renovation. When the Four Points suddenly closed, the Peoria Convention and Visitor's Bureau came to our rescue and we moved to the Embassy Suites for a few years.
Through the years, the contest expanded from a one-afternoon affair where everybody picked up their lawn chair when the last tune was played and went to take a train ride. The first addition was a party afterward, with the first one held at Shakey's Pizza Parlor in Champaign IL. Everybody spent the next 5 hours eating, drinking and singing along with the piano players. Having the event at a hotel solved the problem of lodging for those coming in for both days and also gave us rooms for the afterglows — with food service thrown in.
Since its inception as a fundraiser for the Monticello Railway Museum in 1975, the World Championship Old-time Piano Playing Contest and Festival sought to educate the general public about Ragtime melodies and other popular music written prior to 1930, at the end of the "Roaring 20s." Standard tunes, waltz tunes, Joplin tunes, railroad tunes, simple or complex, melodic or chaotic, humorous or mournful—they're all equal when performed before a cheering crowd of admirers.
Now, the contest has entered a new stage, leaving Illinois for a new home at the University of Mississippi in Oxford, befriended by the music department and previous contest judge Ian Hominick.
Support
The contest's budget for prize money, trophies, and other expenses to stage the contest is supported by the admission fees we charge during our contest weekend and through the contributions of our friends and members. And, it also depends on many other contributors, large and small, who appreciate the music and want to lend a hand.