Next Contest – May 21-24, 2020! 

Welcome to the official site of the World Championship Old-Time Piano Playing Contest & Festival.  Take your time to explore our event and make plans to join us in Oxford, Mississippi for the 45th annual Contest as a competitor or as a member of the audience.  If you like ragtime, traditional jazz, blues, honky-tonk, boogie-woogie and novelty songs from the early 20th Century, you'll have the time of your life in Oxford. All events are family-friendly so pack up the kids and make a day of it!  We're looking forward to hosting YOU this Memorial Day weekend!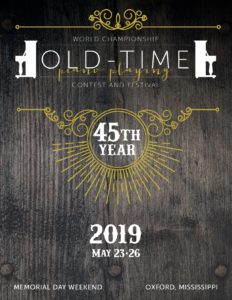 Every year over Memorial Day weekend in Oxford, Mississippi, the World Championship Old-Time Piano Playing Contest is held to provide an opportunity for aspiring pianists to compete and learn in a stimulating atmosphere, and to educate people about old-time piano music written prior to 1940.
Through the years, the contest has provided more than $60,000 in prize money to more than 500 piano players from across the United States and from five foreign countries. Players in 2017 will compete in two divisions—Regular and Junior—as they vie for close to $6,000 and trophies—including in the Piano Duet and New Rag Contests, where aspiring composers present their original tunes.
A variety of other activities include workshops, guest artist performances, an old-time sing-along, a double-decker bus tour of historic Oxford, and after-hours events every night on the Oxford Square.
This is a weekend packed with Ragtime, Tin Pan Alley and Standard tunes played by amazing piano players. You don't have to play piano to enjoy music that will have your toes tapping. You'll have the old-time of your life at the World Championship Old-Time Piano Playing Contest.

Don't Miss Out on This Exciting Event!