2018 Judges & Guest Artists
Frederick Hodges
Hailed by the press as one of the best concert pianists in the world, Frederick Hodges is sought after by today's foremost orchestras, festivals, conductors, and collaborative musicians. His absolute artistry, virtuosity and charisma have brought him to the world's most renowned stages numerous times, leaving audiences around the globe repeatedly captivated. Mr. Hodges has made regular appearances at major music festivals throughout the US as well as world tours with the Royal Society Jazz Orchestra under the baton of conductor Don Neely.
Renowned as a pianist and singer, Frederick Hodges is recognized by audiences around the world for his mastery of diverse repertoire from Rachmaninoff to Gershwin. He has established a reputation as a truly versatile artist equally sought after as soloist, singer, guest soloist with the California Pops Orchestra, and dance band pianist. He has appeared on national television, radio, and in several Hollywood films. He is also a sought-after silent film accompanist for both live performances and on DVD. He performs regularly at theNiles Essanay Silent Film Museum.
His extensive repertoire includes the great European classical masters as well as the best American composers such as George Gershwin and Cole Porter. His distinguished discography, primarily on Rivermont Records, Stomp Off, and Aristophone Records, includes piano works by George Gershwin, Cole Porter, Jerome Kern, and Scott Joplin.
Frederick Hodges is a native of California, where he began his piano studies at age eight. At thirteen, he began intense classical piano study with two famed San Francisco Bay Area piano teachers who were both graduates of the Juilliard School of Music: Virginia Moore and Trula Whelan. At age seventeen, he won the prestigious Music Teachers of California Young Artist Award. At twenty, while still an undergraduate at the University of California at Berkeley, he joined Don Neely's Royal Society Jazz Orchestra as pianist. Since then, he has toured extensively. Frederick has enjoyed a career playing solo piano for society parties and holding down steady engagements at legendary San Franciscoestablishments such as L'Etoile in the Huntington Hotel, Masons in the Fairmont Hotel, and the Ritz Carlton Hotel.
In 2001, Frederick earned a doctorate in history from Oxford University in England, where he lived for five years as a member of Magdalen College. From 2001 to 2002, he served as a postdoctoral research associate at Yale University. Frederick has participated in many prestigious festivals including the Monterey Jazz Festival, the Sacramento Music Festival, the WestCoast Ragtime Festival, The Blind Boone Festival in Columbia Missouri, the Templeton Ragtime Festival at Mississippi StateUniversity, the El Segundo Ragtime Festival, and the Sedalia Scott Joplin Ragtime Festival, Cinecon Film Festival in Hollywood, among others.
Tom Hook
Musician songwriter Tom Hook began his career in Kansas City Missouri, performing in local in regional jazz and rock bands, as well as working as a stage performer at Worlds of Fun theme park. He was a founding member of the New Red Onion Jazz Babies, a regional "trad" jazz favorite. Leaving Kansas City in 1980, Tom began a long association with the Delta Queen Steamboat Company, working as a lounge entertainer on board the Mississippi Queen until late 1984 when he assumed bandleader duties on the Delta Queen. During his 1985 tenure on the DQ, 1986 found Tom in Orlando, FL working as a staff musician at Walt Disney World.
While in Orlando, Tom also worked in Bill Allred's Good Time Jazz Band at Rosie O'Grady's at Church Street Station, and with his own vintage rock band, The Terrier Brothers, at the Orchid Garden. The Terrier Brothers assumed duties of relief house band at Lil' Darlin's Rock and Roll Palace in Kissimmee, FL where they appeared with the rock and roll legends of the fifties and sixties. During the same time period, Tom also had the unique opportunity to record a progressive rock project with Kansas City based Ancient Vision at Ian Anderson's (Jethro Tull) studio in Barford-St, Michael, UK .
In 1987 Tom was a founding member of the Black Dog Jazz Band, an association that has led him over the years to appearances at most of the major Traditional Jazz festivals in the US, as well as multiple tours of Western Europe and a spectacular 1989 tour of Communist China. His association with the Black Dogs has also led him to a close connection with Jazzdagen Tours, and he has had the good fortune to make multiple cruises as a guest artist on their cruises, literally all over the world.
In 1990 Tom returned to the stage, portraying Sam the Bartender at the Diamond Horseshoe in Disney World. In 1992 Tom worked as music director at Main Street Station Casino in Las Vegas, and then returned to Delta Queen Steamboat Co as staff musician and band leader between 1993 and 1997. Tom assumed the roll of Cruise Director on the American Queen in 1998. In 1999 he returned to Disney World as a staff musician, and was one of the opening entertainment staff at Pat O'Brien's nightclub at Universal Studios City Walk. Tom is the proud owner mof the coveted 'golden Woody" awarded to City Walk's premier entertainer annually.
In 1999 Tom assumed the position of Manager of Entertainment for Delta Queen Steamboat Co, moving to the position of Music Director at Harrah's Casino New Orleans in 2001. In 2002 Tom returned to Delta Queen as the Director of Entertainment, overseeing the entertainment programming for the entire company.
In 2007 Tom formed Daymark Productions with associate Wes Payne, which produced and administrated the entertainment for the nine vessels of Majestic America Line for the following two seasons.  In recent years, Tom has continued to tour the world with multiple trips to Europe, the Mid-East, South America, Malaysia, and annual trips to Japan with Tom Fischer's New Orleans All-Stars. He still participates in the West Coast Traditional Jazz Festival circuit, and makes annual trips to British Columbia. He recently co-wrote and starred in the "Big Easy Award"-winning production of "Jump Jive and Wail, the Music of Louis Prima" at the National World War II Museum in New Orleans.
When not on tour, Tom performs nightly in New Orleans and on board the American Queen and Queen of the Mississippi Riverboats with his own New Orleans All-Stars (fronted by legendary trumpet man Wendell Brunious) and with his own one-man stage production of the musical drama "Riverman!". The All-Stars also make regular appearances at world renowned Preservation Hall.
Over the years Tom has performed as voice talent on various radio and television jingles for entities as diverse as the Kansas City Chiefs, Kansas City Kings, Budweiser, McDonalds, H&R Block, and Walt Disney World. Tom also has delved into the world of cyber entertainment, producing and recording period music for a series of war games developed by John Tiller for HPS Simulations.
Julie McClarey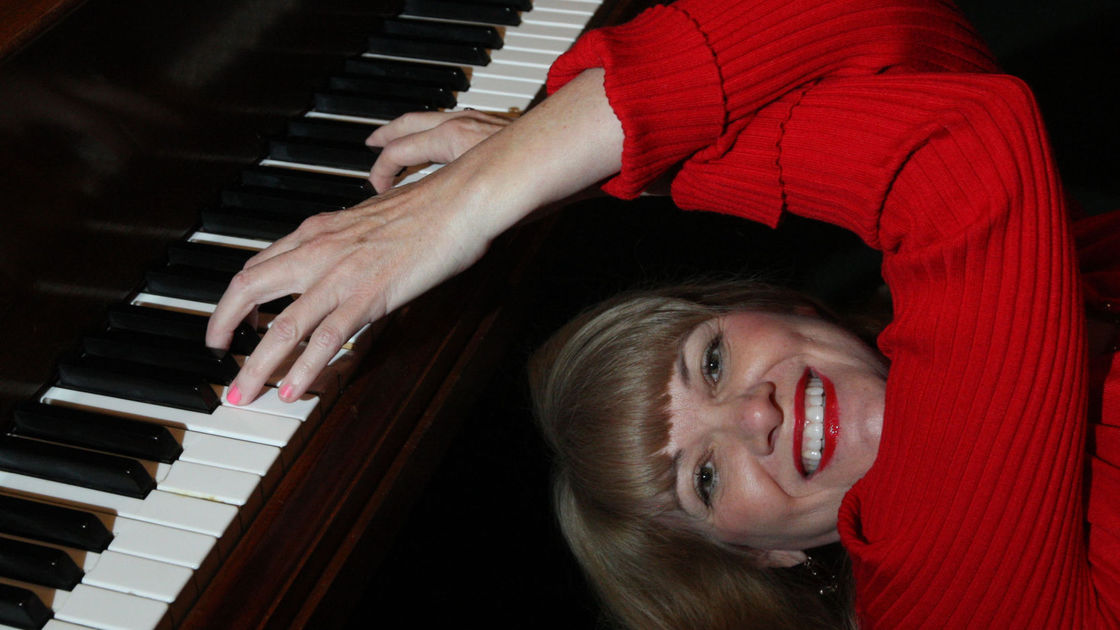 Julie McClarey is an awarding winning pianist with a style that lights up every venue in which she appears. She has performed at notable locations in Branson, MO, Nashville, TN and throughout the United States. An undefeated National Ragtime Piano Playing Award winner three years in a row, she is equally accomplished with classical selections, hit standards from many eras, as well as traditional hymns and contemporary Christian music.
Julie's love of people spills over into her performances, often playing "Name That Tune" with the audience and even having fun playing the piano "backwards." Julie's piano skills began to develop at the early age of six as she learned how to play on the family's upright piano in the living room of the house where her parents still reside. Her training continued as she graduated Suma Cum Laude with a degree in Piano Performance at Millikin University.
Julie loves to teach as well as perform and has appeared as featured performer and music director aboard Showboat Branson Belle; performed with Dino and with Jo Ann Castle of the Lawrence Welk Show; has served as Band Leader/Pianist of the Country Music USA Show at Opryland USA and was a featured guest on the Pat Sajak Television Show.